The Giant's Rest, Wilmington, England
By Jessica – March 4th, 2006
What could be more English than heading off to a country pub for a hot lunch on a Sunday afternoon? As an American, this seems like a quintessentially British thing to do. So when my family was over for a recent visit, I insisted that we all make for the countryside in order to find a nice Sunday roast somewhere.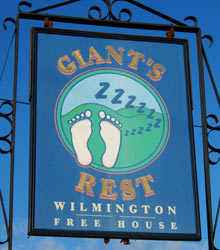 Our Sunday roast expedition was coupled with some local sightseeing, so we didn't have a particular lunch destination in mind. Instead, we decided to take our chances on whatever nice-looking pub we came across. And so it was that after poking around Michelham Priory (where the good bread flour comes from) and driving through the rolling South Downs for a while, we found ourselves outside the Giant's Rest pub in the tiny hamlet of Wilmington just in time for lunch.
I remembered reading positive things about the Giant's Rest in the bit of online pub research I had done the night before, so my mom and I hopped out of the car and went inside to scope the place out. It turned out to be absolutely jammed, packed with families filling the tables and chatting over their lunches, walkers refueling after hiking on the Downs, and old men propping up the bar with their sheepdogs at their feet. I despaired at ever getting a seat, but we made our way to the back of the busy pub nonetheless, where we were greeted kindly by a grey-haired man with a warm smile who asked if he could help us. When we said that we were hoping to find space for six (!) people to eat lunch, he laughed in semi-disbelief but then immediately vowed to get us a table as soon as possible.
We left our name with him and went off to view the Long Man (which was our real reason for going to Wilmington in the first place). Fifteen chilly minutes later (it was a windy day) we were back in the warmth of the pub, seated at a big table reserved just for us, and perusing the nicely varied, traditional-with-a-twist menu.
The Giant's Rest isn't exactly a "gastro pub", but it offers a lot more on a Sunday than just "beef, chicken, lamb or nut roast": hearty country fare like rabbit and bacon pie or venison casserole sits on the menu alongside warm haloumi salad and hake and coriander fishcakes. There are also a number of starters, such as baked Camembert and garlic mushrooms, and a decent selection of interesting vegetarian options (the African spinach and sweet potato stew springs to mind).
Since it was a cold day and I wanted something that would stick to my ribs, I passed up the tempting ploughman's lunch and the enticing smoked duck salad and opted instead for the soup of the day - celery and Stilton - followed by the local sausages with bubble and squeak and homemade chutney.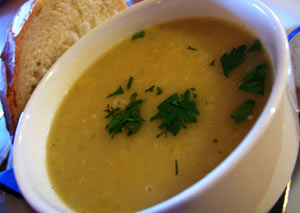 I'm not the world's biggest fan of celery, but the soup was gorgeous. Its delicate and sprightly celery flavor was given depth by a subtle hint of creamy Stilton. This was honest, homemade soup: not too salty, not watery or bland, and served with what appeared to be a quarter of a loaf of white farmhouse bread.
The soup was a meal in itself, but I managed to polish off my sausages and potatoes nonetheless. The two big, well-browned sausages had a good coarse texture (not much rusk here) and were generously seasoned with thyme. They reminded me more of a German bratwurst than an English banger - and that is definitely a compliment. They were accompanied by a mountain of crushed potatoes mixed with crisp green cabbage and buttery slices of leek and then browned in a frying pan. The sweet chutney with tomatoes, onions and raisins complemented the sausages nicely, though some spicy mustard also would have done the job (but then, I'm a mustard fanatic).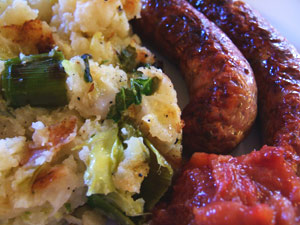 All the other food was top-notch as well. The meltingly tender boeuf bourguignon came in a rich sauce the color of dark chocolate, while the rack of lamb was coated in a mustard and pistachio crust, cooked to juicy perfection and served with a fine red wine gravy. After lunch, Jeremy had a cheese plate consisting of big hunks of Stilton, farmhouse cheddar and brie, a selection of biscuits, and the same homemade chutney served with the sausages. There was also a tangy apple and blackberry crumble for dessert and a Victorian trifle loaded with custard and soaked in sherry. I was completely stuffed after all the soup and sausages, so all I could manage was a mandarin and raspberry sorbet - but I'm determined to go back for the sticky date and walnut pudding sometime.
So the food was very good, but I liked the Giant's Rest as much for the atmosphere and the warm reception we got there as I did for the tasty cooking. The man who greeted and seated us (who I believe was the proprietor Adrian Hillman) couldn't have been nicer, and the pub was bright and buzzing with all sorts of people on a Sunday afternoon. It's in a lovely location, just a short walk from the Long Man car park and Wilmington church with its ancient yew tree. You should probably book if you have definite plans to eat there on a Sunday - though you could trust in luck, the mercy of the kind Mr. Hillman, or even the positive vibes from the Long Man himself.
The Giant's Rest, The Street, Wilmington, England , +44 (0) 1323 870 207