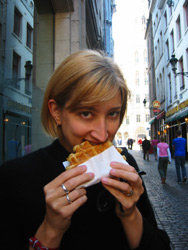 My name is Jessica, and I am obsessed with food.
I was born on a Monday in New Orleans - red beans and rice day. Though my family left New Orleans when I was just one year old, I like to think I absorbed some of the city's foodie culture in the short time I was there.
My family moved around a lot as I was growing up, but one of the constants in my life was Good Home Cooking. I had the tremendous advantage of an Italian-American heritage, and when I think about my childhood dinners, I think of eggplant parmesan, lasagna, spaghetti and meatballs, veal cutlets, homemade soup, tocco, crusty bread, olive oil and vinegar…
When I first lived on my own, I spent a year eating ready-made pasta sauces and cans of soup. When this lost its charm, I had the bright idea to ask my grandma for some of her Italian recipes - and that's when it all started, really. That's when I realized how important culinary traditions were to me. That's when I discovered the pleasure to be had not just in eating food, but in preparing it as well. That's when the obsession began.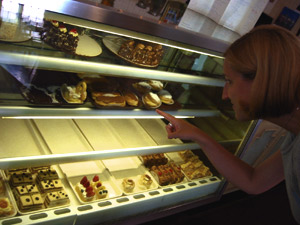 The first conversation I ever had with Jeremy (not long after I started cooking those recipes from my childhood) revolved around the merits of tiramisu and Caesar salad. We subsequently bonded over chips and salsa sent in a care package all the way from Arizona to Germany. Since then, we've shared reindeer sausages in Finland, oysters in Ireland, tortellini in Italy, and countless comestibles from one coast of America to the other. We're the two slowest eaters on the face of the planet, we compulsively take pictures of nearly every edible thing placed in front of us, and the phrase we probably use more than any other is "What do you want to eat?"
This website is basically an ongoing answer to that question…