Roast Pork for Two
By Jessica – March 20th, 2006
Roasting meat should be the simplest thing in the world: you take a piece of meat and cook it in the oven until it's "done". But every time I intend to roast something, I find myself searching for definitive guidelines on how to do it right - and every time, I encounter two main problems.
Firstly, most cooking guidelines encourage you to cook your meat to death in order to prevent "food-borne illness". While this is a reasonable concern, overly-cautious recipes are not very helpful if you want a tender, juicy roast instead of a dry, grey lump. And secondly, most recipes for roast meat are designed to serve six people or more, which is a bit awkward if you just want a small roast for two.
Roast pork is particularly vexing. Undercooked pork is dangerous, overcooked pork is dismal, and when you're dealing with a tiny 1-pound piece of meat, it's impossible to get that layer of crunchy crackling and the caramelized pan drippings that only accumulate after long, slow roasting. But good roast pork is also delicious, so I resolved to figure out how to turn a small pork loin into a proper (easy) Sunday roast. Here's what I came up with.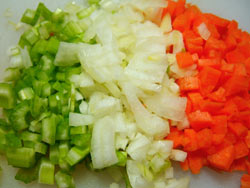 To make Roast Pork for Two, you will need:
1/4 cup each finely diced carrot, onion and celery
one large bay leaf
one piece boneless pork loin, about 500g (1lb), covered with a thin layer of fat
1 1/2 cups beef stock (I just use a beef stock cube dissolved in hot water)
1 tablespoon butter
1 tablespoon flour
1 splash red wine
Preheat the oven to 190C (375F).
Layer your finely diced carrot, onion and celery in the bottom of a small roasting tray and put the bay leaf on top. These vegetables will soften and get lightly browned during roasting, which will give some depth to the gravy you'll make with them at the end.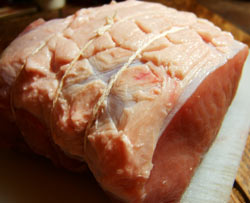 If your pork loin is wrapped with the strangely elasticized string that mine always comes wrapped with, take that string off. Score the fat on the loin in a crisscross pattern and season the whole loin lightly with salt and pepper. You can re-wrap your loin with fresh cotton string so that it holds its shape, but the world won't come to an end if you don't.
Heat a frying pan over medium-high heat. Don't use a non-stick pan; you kind of want bits to stick and get brown in the skillet. Put your meat fat-side-down in the pan and sear it until the outer layer of fat is brown and crispy (this is what will give you an approximation of crackling). Then sear the other sides of the loin until it's nicely browned all around. This only takes a few minutes, and it makes all the difference between an uninteresting grey roast and a mouth-watering golden one.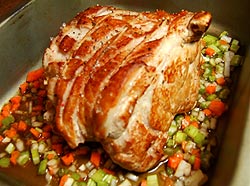 Remove the pork from the frying pan and place it fat-side-up on top of the bay leaf and vegetables in the roasting tray. Rub some coarse salt into the fat and all around the outside of your meat; I use Hawaiian sea salt, which seems to have a particular affinity with pork (or maybe it's my imagination), but any coarse-grained salt will do.
Add about 1/4 of a cup of your beef stock to the frying pan and stir it around to get up any crunchy brown bits left in the pan. Pour this stock over the vegetables in the roasting tray and add another 1/4 cup of stock to the tray so everything is nice and moist, but not swimming. Put the tray in the oven and roast the whole lot for about 40 minutes, until a meat thermometer stuck in the middle of the loin registers 63C (145F).*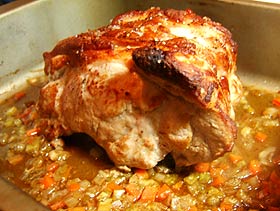 Take the tray out of the oven, then take the pork out of the tray and put it on a platter. Cover the pork loosely with foil and let it sit in a warm place while you make your gravy.
For the gravy, melt 1 tablespoon of butter in a small saucepan. Stir in 1 tablespoon of flour, then whisk in the juices (along with the vegetables and bay leaf) from your roasting tray. Add another 3/4 to 1 cup of beef broth to the saucepan, along with a splash of red wine. Simmer until the gravy has thickened (5-10 minutes), then season to taste. You could strain out the vegetables if you want a smoother sauce, or you could puree them (after removing the bay leaf!) to get a thicker sauce, but I just leave them as they are and enjoy the texture they add.
By the time your gravy is done, your pork will be ready to go. Carve it into medium-thick slices and serve it with the gravy, some nice sauteed cabbage and roasted carrots, and a fruity pinot noir.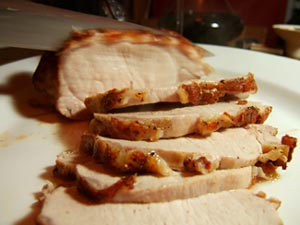 *Disclaimer:
The official line on cooking pork is that the internal temperature should be at least 71C (160F). If you want to be completely, utterly safe, then I recommend you cook it to that temperature.
However, the bad stuff (trichinella spiralis) that could potentially lurk in pork is not only fairly rare these days, it's also killed at an internal temperature of 58C (137F). Also bear in mind that pork loin is a very lean cut of meat: there's no marbling of fat inside to keep it juicy when cooked to an internal temperature of 71C (160F) or higher. I find that cooking pork loin to a temperature of 63C (145F) and letting it rest for 10 or 15 minutes results in meat that is tender, pearly white, fairly moist and definitely thoroughly cooked. If you buy good meat (ideally, organic and free range) and handle it properly, then your chances of getting ill from pork are quite slim indeed.
In any case, I definitely recommend purchasing an instant-read meat thermometer if you don't already have one. It's much safer and easier to accurately check the internal temperature of your meat than it is to poke and prod at your roast in an effort to determine whether the juices are "running clear" or not.