Fresh tomatoes
By Jessica – August 28th, 2006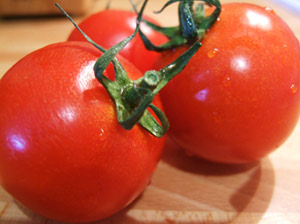 The simple pleasures in life are often the best, and one of simplest, purest pleasures of the summer is a fresh, ripe tomato. Although I do buy tomatoes all year round, the mealy, cardboard specimens you get in the winter bear no more than a passing resemblance to the fat, juicy tomatoes of summer. There's no vegetable (okay—fruit) I look forward to more.
When tomatoes are at their peak, I find a simple salad gets the most out of their flavor. The classic summery tomato salad is the Insalata Caprese, a perfectly harmonious combination of tomatoes, mozzarella and basil. If you have the time and inclination, you can be very particular about your Insalata Caprese, cutting precise rounds of tomato and topping them with individual slices of cheese and single basil leaves.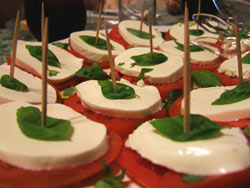 I prefer to follow the Jamie Oliver school of cooking, however: just chuck it all onto a plate. Slice up your ripe tomatoes (not too thick, not too thin) and spread them out on individual plates or a big platter. Then tear off pieces of mozzarella (ideally buffalo mozzarella, but good cow's milk mozzarella will do) and scatter them over the tomatoes. Follow this with basil leaves and a generous drizzle of your best extra virgin olive oil. A pinch of sea salt and grind of black pepper aren't out of place either—but forgo the vinegar. If your only two ingredients are really good tomatoes and really good mozzarella, you don't want to swamp them.
You can, however, transfer the Insalata Caprese idea to a green salad by scattering tomatoes, mozzarella and basil over green leaves (anything from butter/round lettuce to arugula/rocket), in which case you could use a light oil and vinegar dressing to make a heartier salad.
There are countless variations of the tomatoes/cheese/herbs concept. One of my favorites—a salad that Jeremy and I practically live off during the summer—involves not mild mozzarella and tender basil, but rather salty feta cheese and punchy parsley. It's extremely easy to prepare. Slice tomatoes as you would for an Insalata Caprese and spread them on a plate. Then finely slice a red onion and layer the onion over the tomatoes. Next, drizzle over extra virgin olive oil and balsamic vinegar (for a dinner-plate-sized salad, I'd use about 2 tablespoons of oil and 2 tablespoons of vinegar, but you can do it to taste) and season with salt and pepper.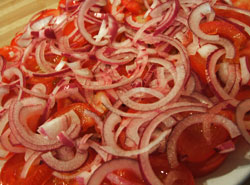 Now you can let all of this stand for an hour or more. Usually I would never let cut onions sit out for any length of time because of the unpleasant smell and taste they can take on, but in this case the vinegar "cooks" them and mellows them out so there's no unpleasantness. When you're ready to serve the salad, crumble feta cheese over the tomatoes and onion and sprinkle on a good handful of chopped parsley. The salad goes perfectly with simply grilled steaks or lamb.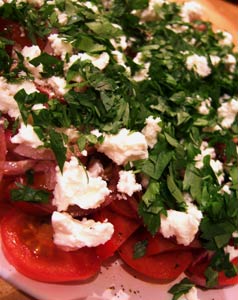 The other great thing about the salad—besides the fact that it tastes amazing—is that it's so versatile. You can use basil or oregano instead of the parsley, you can change the cheese, leave out the onions, or add olives (like in the original Epicurious recipe). For a more Mexican or Asian flair, leave out the cheese and replace the parsley with cilantro/coriander and replace the balsamic vinegar with lime juice sweetened by a pinch of sugar.
Along the same lines, chopped tomato, cucumber and green onion can be dressed with lime juice and a dash of oil to make a refreshing accompaniment to spicy curry dishes. Add jalapenos or other chilies and you'll have a version of pico de gallo, a spicy Mexican condiment that goes great with fajitas.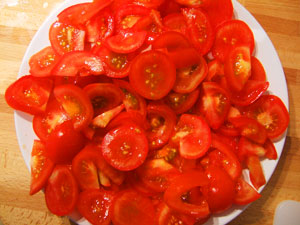 And if you can make pico de gallo, you can make salsa: Just blitz ripe tomatoes in a food processor (ideally you should de-seed them first), mix in some finely chopped onion, garlic and jalapenos and stir in a squeeze of lemon or lime juice, a splash of olive oil, some salt, pepper and sugar to taste, and a sprinkling of fresh coriander/cilantro. Let it sit for a bit so that the flavors gel, then get yourself a bag of tortilla chips and tuck in.
And if all of this seems like too much slicing, dicing, dressing and fiddling, then just get the reddest, ripest cherry tomatoes you can find and pop them in your mouth. That sweet, tangy, tingly, juicy explosion you'll get when you bite down is the undiluted taste of summer.