Carbonnade à la flamande
By Jessica – January 28th, 2007
Belgium not only has beautiful scenery, amazing medieval architecture and a fascinating history, it also has some awesome food. Belgian waffles and Belgian chocolates are the obvious examples, along with the inescapable (and irresistible) frites, preferably served with a hefty pot of moules or a juicy steak.
But the country has a host of other delicious dishes to offer as well: creamy soups with fish or chicken (waterzooi); salads and fritters made with North Sea shrimp; endives/chicory baked under a bubbling blanket of ham and cheese; sweet lobster and other seafood; sausages and game; tender white asparagus, waxy yellow potatoes and bright green Brussels sprouts (don't scoff: Brussels sprouts sauteed in butter with caramelized onions and mustard are delightful).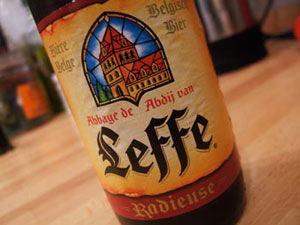 My favorite Belgian recipe features one of Belgium's other great gifts to the culinary world: beer. Carbonnade à la flamande is Flemish beef stew in which beef and onions are simmered in Belgian ale until the meat is tender, the onions are sweet and the ale has cooked down into a rich, dark gravy. I imagine carbonnade was as popular in the 14th century as it is today.
The key - as with so many great dishes - lies in taking a few good ingredients and treating them well to create something much greater than the sum of its parts. And those parts (to feed two people generously) are as follows:
500 g cubed stewing/braising beef
2 slices bacon, chopped
3-4 medium onions, sliced
1/2 tablespoon brown sugar
1/2 tablespoon flour
1 bottle Belgian ale
500 mL strong beef broth/stock
1-2 bay leaves
pinch of thyme (fresh or dried)
pinch of allspice (optional)
salt and pepper
chopped parsley
mustard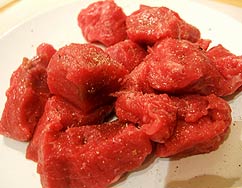 The basic recipe is very straightforward. You can make the carbonnade either entirely on the stovetop, or you can start it on the stove and finish it in the oven. If you're going to use the oven, preheat it to 175C/350F.
Season the beef generously with salt and pepper and brown it on all sides in a dash of oil over medium heat in a heavy-bottomed pot or casserole. When the meat is browned, take it out of the pot and set it aside, then deglaze the pot by adding a splash of beef broth and scraping up any browned bits with a wooden spoon. Add the broth and bits to the beef, then drop the bacon into the pot and fry it over medium heat until it's brown. Remove the bacon with a slotted spoon and set it aside with the beef.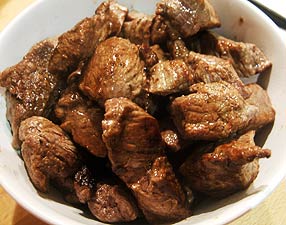 Put the onions in the pot and fry them gently in the bacon fat until they start to turn soft and golden, which will take about 15 minutes. After the onions have been cooking for a few minutes, sprinkle over the brown sugar, which will help them caramelize slightly.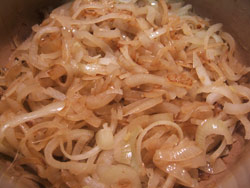 Once the onions are cooked, sprinkle the flour over them and stir it in (a lot of recipes call for tossing the beef cubes in flour before browning them, but I've found that you wind up just browning the flour instead of the meat when you do this). Then add the beef, bacon and any accumulated juices to the onions in the pot.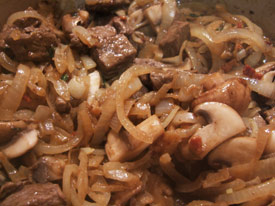 Now comes the fun bit: turn up the heat slightly, and pour in the bottle of ale. It will go all fizzy for a few seconds, but then it will calm down. Add enough beef broth to cover the meat and onions, along with the bay leaf, thyme, allspice if you're using it, and some salt and pepper.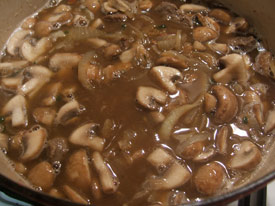 Bring this to a boil, then cover and place in the oven. Let it cook for about 2 hours, stirring occasionally, until the meat is tender (if you're cooking the carbonnade on the stovetop, simply simmer it over low heat for 2 hours; you'll have to stir it slightly more often to prevent it from burning to the bottom of the pot).
To finish the carbonnade, stir in a handful of chopped parsley and a tablespoon or two of mustard if you'd like. Carbonnade is traditionally served with boiled potatoes or sometimes buttered noodles, but I think Spätzle is really the perfect accompaniment (so carbonnade is from Belgium and Spätzle is from southern Germany—it's still a match made in heaven). A salad of chicory or endive dressed with a mustard vinaigrette makes for a sprightly accompaniment to balance out the dark, rich carbonnade.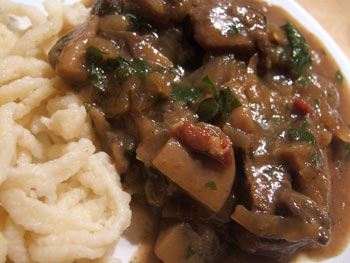 There are just a few things to take note of if you're making carbonnade. First of all, the beer: If you can get hold of Belgian ale, I highly recommend using it, even if it is more expensive than your average bottle of beer. I used a Chimay Blue the first time I made carbonnade, and it worked so well that I've stuck to it ever since. Chimay Blue is a fairly dark ale which gives the carbonnade a pleasing depth. I've tried a Leffe Radieuse as well, which is dark and malty, but I thought it gave the carbonnade a slightly bitter edge. If you can't get hold of Belgian ale, try some other well-rounded copper ale. I would avoid using a stout, however; beef and Guinness stew is great, but that's not what this recipe is meant to be.
Also, resist the temptation to add too much butter or oil to the pot while you're browning the meat and sautéing the onions; otherwise the final product could taste greasy.
The allspice, mustard and herbs are really "optional extras". For true medieval flair, carbonnade should have a spiced, sweet-and-sour tang to it. To achieve this, some cooks spread mustard on a piece of gingerbread and place the bread on top of the carbonnade; as the carbonnade cooks, the mustard-smeared bread breaks down, thickening and flavoring the stew.
Since I don't typically have gingerbread lying around my house, I make do with the allspice and a hefty dollop of wholegrain mustard (cloves might be interesting to experiment with as well). It's also not uncommon for vinegar to be added once the carbonnade is done, but I find that the mustard alone gives the stew enough sharpness. The sugar provides the sweetness, though I've also seen recipes that call for a spoonful of red currant jelly for the same effect. And as for the thyme and the parsley: if you don't have any, don't fret.
And finally, you may have noticed that the pictures accompanying this recipe clearly show mushrooms in my carbonnade. It's true, I have on occasion used mushrooms if I happened to have them in the fridge. It works out fine, but if you tip the delicate mushroom/meat balance, you just wind up with beef and mushroom stew. This is okay as far as it goes—but again, it's not carbonnade à la flamande.
I've since decided that "purity of spirit" is what's called for in a carbonnade. Beef, beer and onions are really all you need to create a hearty winter meal fit for a medieval monarch—or a 21st-century foodie.