Spanish lentil and chorizo soup
By Jessica – March 11th, 2007
I'm not a particularly experimental or inventive cook, so I generally need a "crutch" when it comes to thinking up new things for dinner.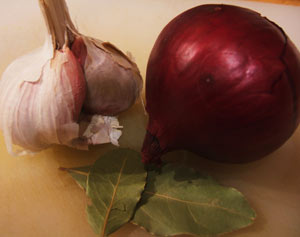 The simplest way of finding new meals is to look for recipes in cookbooks or online, of course. Another fun method is trying to replicate tasty dishes I've had in restaurants. And a third way is to play the variations on a theme game. This involves taking a recipe that I already like and tweaking it by "transposing" its components and, essentially, moving the whole thing to a different country (the variations on a tomato salad with herbs and cheese described in this post are a good example of this).
This lentil soup recipe is actually the product of all three methods. While browsing through food blogs one day, I chanced upon this recipe for lentil, chestnut and pancetta soup. If ever two words could make my heart sing, it would be "lentils" and "pancetta", so I quickly set about making the soup, and it was very good indeed.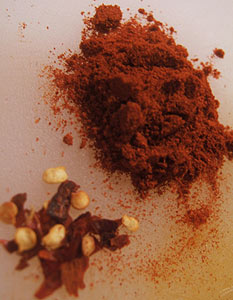 Then one evening, as I sat pondering what to do with a bit of leftover chorizo I had in the fridge, I remembered a smoky lentil casserole I'd had at Bodega D'Tapa, a little (very little) gem of a tapas bar in Brighton. The idea of lentils and cured meat got me to thinking about the lentil and pancetta soup, which I decided I'd move from Italy to Spain by substituting chorizo for the pancetta, replacing the sage and thyme with pimentón (smoked Spanish paprika), and adding some onions and garlic for extra richness.
To my delight, the Spanish version of the soup turned out great. The combination of earthy lentils, smoky paprika, spicy chorizo and sweet chestnuts is a real winner, and it's quick and easy to make to boot.
The following recipe will really serve four, though I make the same amount for two because the leftovers are yummy for lunch. Though the ingredients have been tweaked, this recipe hews very closely to the original one, so most of the credit for it should go to Meg of Though small, it is tasty (who, incidentally, used to be a resident of Brighton! Small world...)
150 g lentils
2 bay leaves
75 g Spanish chorizo, sliced
1/2 onion (preferably red), chopped
2 cloves garlic, chopped
200 g roasted and peeled chestnuts, chopped a bit
150 mL red wine
250 g canned tomatoes
1/2 tablespoon tomato paste
1 teaspoon smoked paprika
red chili flakes and salt to taste
Cook the lentils and bay leaves in a pot of boiling water for about 25 minutes, until the lentils are tender but still firm. Drain the lentils, saving the cooking water.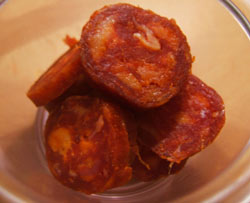 In the meantime, heat a splash of olive oil in a pot over medium-low heat and sauté the chorizo for a minute. Remove the chorizo and set it aside, then sauté the onion in the oil for about 10 minutes, until it's soft. Add the garlic and sauté a minute or two, then add the chestnuts and cook them for a few minutes too.
Pour in the wine and simmer until most of the liquid has cooked off, then add the tomatoes, tomato paste, paprika, chili flakes if you're using them, and salt to taste.
Simmer all of this until the mixture has thickened, roughly 15 minutes. Then stir in the lentils and as much lentil cooking water as you want (I make this like a thick lentil stew, but you can add more liquid if you want something more soup-like). Cook this together for another 10 minutes or so, adding the chorizo towards the end to heat it through. Season again if you need to, then serve it up!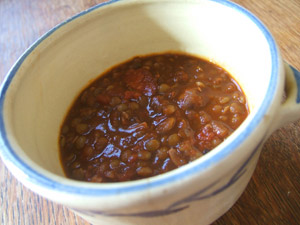 I like to use small, firm lentils such as Puy lentils for this, but I'm sure regular brown lentils would work just as well (or for extra authenticity, use Spanish Pardina lentils if you can find them). The chestnuts add a nice texture and sweetness, but I've made the soup without them and it's still very good (and by the way, I don't roast my own chestnuts—I just buy them already roasted and peeled).
For a vegetarian version of the soup, just leave out the chorizo. The pimentón will still give you a deep smokiness, and you could substitute some roasted red peppers to boost the flavor even more. Then you need nothing more than a spicy Spanish red and maybe a crisp salad to have a dinner that's just delicioso.
Update: For an extremely fast variation on this soup, you can use tinned black beans instead of lentils.
Follow the steps for cooking the chorizo, onion and garlic mentioned above (you can sauté carrots and/or celery along with the onion if you have them), stir in the smoked paprika, add some tomato paste/puree or some tinned tomatoes if you like, then chuck in two tins of black beans (with their juices) and enough water or vegetable stock for the soup to reach the consistency you want. Simmer it for as long as you like, put the chorizo back in, season it to taste, and enjoy!