Babbo, New York City
By Jessica – November 19th, 2007
Few places can be as overwhelming as New York City when it comes to finding somewhere special to eat. The city is vast, the choices are endless, the prices can be breathtaking, and many of the high-end restaurants require you to (try to) make reservations months in advance.
When I took a trip to New York a few days after my birthday this year, I had it in mind that I wanted a nice belated birthday dinner somewhere, but I never managed to pick a place ahead of time. Instead, Jeremy and I set out for Greenwich Village one Friday evening, with no reservation and no plan, simply trusting to fate that we'd stumble across a pleasant restaurant for a good meal.
We hadn't made it very from the subway stop when we spotted a cozy-looking establishment across the street. As we approached, we saw that it was none other than Babbo, one of Mario Batali's numerous restaurants and apparently one of the toughest restaurants in the US at which to get a table—which is why I had written it off when I was considering potential birthday spots.
But seeing as fate had guided us to Babbo anyway, we figured we had nothing to lose by going in and asking whether there was any chance of a table that night. It was really only a whim, so when the maitre d' glanced around and said, "I can seat you in about five minutes"—well, you could have knocked us over with a feather.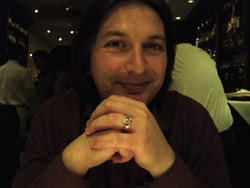 Five minutes later, we were ensconced at a cozy table for two in the bar area at the front of the restaurant. Apparently, a certain type of New Yorker would not be seen dead dining in someplace as pedestrian as "the bar area", but if—like Jeremy and me—you go to a restaurant not to see and be seen but rather to eat, then the bar area is just fine, thank you very much. In fact, you can see our little table in this picture: it's the table on the left in the distance (space being at a premium in New York, you get pretty cozy with the people sitting around you).
The menu promptly overwhelmed us, so we eventually decided to take the easy way out and just go for the eight-course traditional tasting menu paired with wines, which would spare us having to choose our dishes and our wine (a most intimidating prospect). Somehow I managed to get surreptitious, if not terribly high-quality, photos of every course, so what follows is an illustrated, course-by-course account of our unexpected meal at Babbo.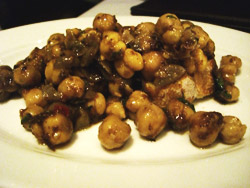 Chickpea bruschetta - This was actually our amuse bouche before we received the first course of our meal. I adore chickpeas, so I loved this; it tasted a lot like something I'd make, but better. The very tender, slightly spicy chickpeas were drenched with balsamic vinegar and spooned over thick toasted bread. Even though I knew we had a ton of food coming, I found it impossible not to eat every last morsel of this.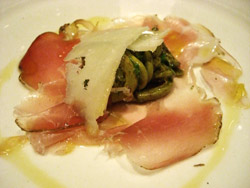 Culatello with fiddleheads and pecorino - The only time I've seen culatello outside Italy was at Salumi in Seattle, which is, incidentally, run by Mario Batali's father. It's a beautifully rich Italian ham which was a treat to have again. I'd never tried fiddleheads, so I was happy to have the chance at Babbo. They were extremely yummy—funny, twirly, crunchy, pickly things. It's pretty much impossible to fault something as sublime as culatello—or indeed pecorino—so I thought it was a lovely dish, though it couldn't surpass the culatello with figs and pecorino I had on our first night in Bologna, since that was one of the best things I've ever eaten in my whole life, ever.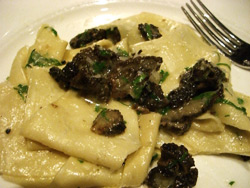 Pappardelle with morels and thyme - This was absolutely, positively scrumptious: golden, eggy ribbons of perfectly cooked pasta tossed with tender morel mushrooms and drenched in butter and parmesan. The flavor of this reminded me of my childhood, when my grandma would make me pastina with lots of butter and parmesan when I wasn't feeling well. It's the best comfort food ever. There was a generous portion of this pasta, but I could have easily eaten more. Lots more.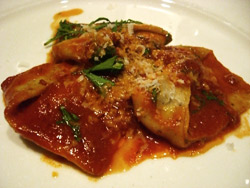 Duck tortelli with "sugo finto" - I was thrilled by the prospect of this dish: confit duck—inside tortellini! Disappointingly, the duck flavor didn't come through as strongly as I would have expected, but the rich tomato sauce that topped the tortelli (the "sugo finto", or "fake sauce") was a revelation, because it tasted almost exactly like something else my grandma makes, which is one of my favorite, most nostalgia-laden dishes in the world: tocco. Tocco is going to get its own Principia Gastronomica entry, so for now I'll just say that it's a type of Italian pot roast that results in a rich, beefy tomato sauce which tastes remarkably like Batali's "sugo finto" (which apparently doesn't have any meat, hence the "fake"). It was a shockingly evocative taste.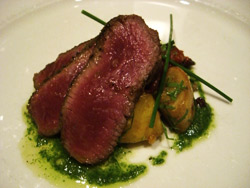 Grilled lamb loin with summer caponata and mint pesto - I don't see lamb very often on menus in the States, so it was nice to have the opportunity to try some American lamb (I'm assuming it was American, anyway, and not flown in from New Zealand—or indeed England). This was quite delicious, with the impeccably cooked lamb (really rare, just how Jeremy and I like it) nestling on a bed of summery vegetables. The mint pesto in particular was gorgeous, and it's something that I've tried to recreate myself since then.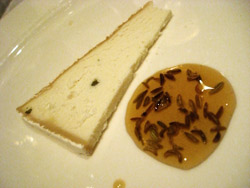 Coach Farm's Finest with fennel honey - The menu gave no hint of what "Coach Farm's Finest" might be. As it turned out, this was the cheese course to wrap up the savory portion of the menu and make the transition to the desserts (rather more quickly than I would have expected, to be honest). Coach Farm's Finest is a fresh, tangy goat cheese which was perfectly complemented by an amber pool of honey fragranced with pungent fennel seeds. I'm a recent convert to fennel seeds. A little goes a very long way, but used judiciously, they add a wonderful Italian warmth to dishes. The fennel here was a tasty herbal counterpoint to the cheese and honey, so I enjoyed this dish a lot.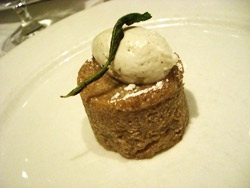 "Delizia di Susina" - This, our first dessert, really was scrumptious. It was a moist, spiced plum cake with the texture of bread pudding, topped with a tangy spoonful of something like creme fraiche ice cream. I love bread pudding, so this kind of dessert is right up my alley. Since it was also our first dessert of the evening, it was refreshing to have something sticky and sweet after the hearty savories we'd consumed.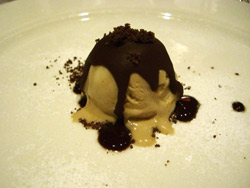 Chocolate "Tartufino" - The "tartufino" was a softly frozen ball of hazelnut mousse topped with a drizzle of hard chocolate. Not being the world's biggest fan of chocolate ice cream, or even hazelnuts (crazy, I know), I found this okay but not amazing. Also, my sweet tooth had already been satisfied with the plum cake, so the rich, sweet nuttiness of this was more than I really needed.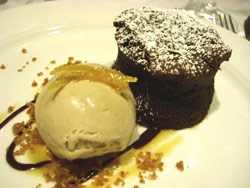 Lemon olive oil cake with thyme and olive oil gelato - We actually wound up getting two different desserts for this, our final course: the lemon cake (which I never got a picture of), and what I think was Babbo's chocolate-hazelnut cake with orange sauce and hazelnut gelato. Our waiter said this was because they had run out of the lemon cake, but having read other reviews of the Babbo tasting menu, receiving two different cakes at this point seems to be par for the course (ha ha). We definitely liked the lemon cake better, in part because it was lighter, which was what we needed at this point in the meal, but also because 1) having already had a chocolate-hazelnut dessert, we didn't really need another one, and 2) I really didn't think the orange sauce complemented the chocolate and hazelnut very well. But by that time I was so full that it was hard to be objective about tastes anymore.
That's the peril of almost any tasting menu, I suppose: if the amounts aren't well-judged, you wind up not really enjoying your food by the time you get to the end of it. I think Babbo's tasting menu was fairly well-judged in terms of amounts, but the balance of it wasn't quite what I would have expected, or indeed wanted. I found the three desserts to be way too much (and then you get petit fours afterwards, which I could hardly even look at). I would have ditched at least one of the desserts in favor of another cheese course, or maybe even a fish or another meat course served prior to the lamb. It's a matter of personal taste, of course. I would just prefer to have a bite of something sweet after a full savory meal, rather than to have almost half of my meal consist of sweet things.
The atmosphere at Babbo is definitely a matter of personal taste as well. Babbo famously has a thumping soundtrack taken directly from Batali's own iPod. I didn't mind the rather loud rock music because I happen to like U2 and Talking Heads and it seemed to fit in the already noisy bar area. But the volume did skirt the boundaries of being intrusive.
There's also the matter of the pace of things—not just at Babbo, but in New York as a whole, I suspect. Even really high-end restaurants in the city like to get two, or even three, seatings a night. Since the pace of a tasting menu is largely determined by the kitchen, we couldn't and didn't rush through our meal. But I was very aware of the fact that the tables around us were turned over at least once while we sat there, and the brisk efficiency of the serving staff left no doubt that things are expected to move fast at Babbo. That's fine, but when I'm paying that much for a dining experience (with or without a reservation), I don't even want to feel a hint of being rushed.
Overall, I like Frank Bruni's assessment from a New York Times article a few years ago: Babbo is an "absolutely terrific restaurant" though not a "wholly transcendent" one. But quibbles aside, the food was outstanding, and I feel supremely lucky to have been able to walk in off the street and snag a table at such a prestigious and pleasing restaurant. I'd certainly go back again—if I thought I could ever get a reservation...
Babbo, 110 Waverly Place, New York, NY 10011, +1 212 777 0303