Valentine's Pork Chops
By Jessica – April 2nd, 2009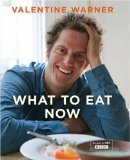 Valentine Warner is a man I could sit down and enjoy a meal with.
The affable host of the BBC's What to Eat Now program is a gastronome after my own heart, a man clearly in love not just with food but with the very act of eating, a man who is unashamed to have juice dribble down his chin as he devours a plum and who can laugh easily at his own culinary mishaps—even the televised ones.
As semi-locavores (in that we do our best to eat seasonally and locally but occasionally break down and buy zucchini from Spain in the middle of winter), Jeremy and I were excited by the prospect of a TV show telling us how to make the most of what England has to offer each season. And we were not disappointed; each time What to Eat Now aired, we would sit on the couch shouting "Yes, yes!" as Valentine (yes, we're on a first-name basis) threw hunks of butter into frying pans and chowed down on game, wild mushrooms, pumpkin soup, pear tarts, and mackerel on toast.
I got the What to Eat Now book for Christmas, and of all the dishes I've since cooked from it, each has turned out perfectly, with no tweaking necessary, and several of them—like the roast shoulder of lamb with herbs and honey and the lentil and chicory salad with mustard dressing—have become firm favorites in my kitchen. To top it off, the cookbook is sprinkled with charming drawings done by the author himself, and it's also very funny to read ("Serve immediately while trying to get more of the caramel than anyone else"—-or, "If you are not a fan of anchovies, simply remove them from the recipe and send them to me").
I find it odd, however, that the stand-out recipe from the show—the one which got Jeremy and me through the cold winter, the recipe we repeatedly made for fast mid-week meals and lazy weekend ones as well—doesn't even appear in the book. It's a recipe known in my house simply as "Valentine's Pork Chops", and it was jotted down hastily on a scrap of paper while watching a re-run of What to Eat Now online before the BBC took it away forever.
Like Valentine's other recipes, this one is packed with bold flavors: anchovies, capers, garlic, and lemon, all drizzled over a sizzling pork chop. It's salty, tangy, garlicky, and not the type of recipe you'd want to make with a super-lean cut of pork. You want a big, bone-in chop for this, ideally with a nice strip of fat around the edge for extra flavor and juiciness. Okay, so it's not exactly health food—but man, is it good.
For two people, you'll need:
2 pork chops
a handful of flour seasoned with salt and pepper
olive oil for cooking
6 chopped anchovies
a large knob of butter
a handful of capers
1 chopped clove of garlic
the juice of half a lemon
Heat a bit of olive oil in a frying pan, then dust the chops with the seasoned flour and fry them until they're nicely browned on both sides and cooked through. The time it takes will depend on the thickness of your chops and whether there's a bone in them or not—just cut into them to check. Also, if you have a good rind of fat on the chops, you can cook that part first by holding the chops vertically in the pan so the fat gets gorgeously crispy.
When the chops are finished, put them on plates and set them aside, then add the chopped anchovies and knob of butter to the hot pan. Swish them around until the butter fizzes and the anchovies have softened and started to disintegrate. Throw in a handful of capers and the chopped garlic and stir them for a minute before squeezing in the lemon juice. When everything has melded together and heated through, pour the sauce over the chops. Serve them with a heap of creamy mashed potato, a smattering of sauteed greens (kale or cavolo nero is particularly tasty), and a warming glass of red wine to chase the winter blues away.