Roasted carrots
By Jessica – December 18th, 2005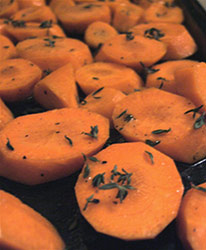 I've never been overly fond of cooked carrots. The only cooked carrots I've ever really enjoyed are my grandma's super-cheesy baked carrot casserole, but those are a bit too heavy and labor-intensive for everyday vegetable purposes. However, I recently stumbled upon a great, easy way of making cooked carrots taste very yummy indeed.
Preheat the oven to about 210 C (410 F). Chop your carrots into roughly 1-inch pieces, spread them on a baking tray, and toss them with some olive oil, salt and pepper. Drizzle them with honey or maple syrup. Add herbs and spices if desired (thyme goes nicely with honey, while allspice is quite lovely with maple syrup). Put them in the oven, leave them alone for about 45 minutes until they look nice and roasted. Take them out of the oven. Eat them.
It's ludicrously simple, I know, but it was a revelation to me. It produces cooked carrots that taste like sweet potatoes, all caramelized on the outside and soft on the inside. Just right for a chilly winter night.