Guinea fowl
By Jessica – October 8th, 2009
Chicken, chicken, chicken.
Looking at supermarket shelves and restaurant menus, you'd be forgiven for thinking that chicken was the only poultry anyone ever consumed. Don't get me wrong, I love a good roast chicken as much as the next person. But if you're all chickened out and ready to take the next step into the wonderful world of fowl, then grab yourself a guinea hen.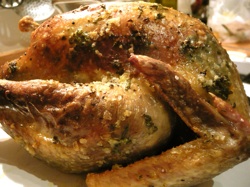 I first discovered guinea hen (or guinea fowl, as it's known here in the UK) several years ago in Bologna at the Trattoria Anna-Maria, where the bird was spit-roasted (as far as I could tell) and served with a generous smattering of ultra-crispy, ultra-salty pancetta. Though no guinea fowl I've had since has surpassed the one I consumed with gusto on that chilly night, it's still one of my favorite birds to eat.
The joke about "tasting like chicken" is pretty accurate for guinea fowl—though guinea fowl tastes like what I imagine chickens used to taste like before they were raised on an industrial scale and bred for size, not flavor. Guinea fowl is leaner than chicken and has a slightly heartier flavor which makes it ideal for rich autumn and winter dishes featuring smoky bacon, earthy lentils and root vegetables, sweet chestnuts, bitter chicory, and herbs like sage and rosemary.
I prepare guinea fowl the same way I prepare chicken, generally by smearing herbed butter under the skin before roasting it to keep it moist. Guinea fowl can be a bit fiddly to spatchcock, but you can easily roast it whole and then cut it in half down the middle for serving (your average guinea fowl is smaller than your average chicken, so if you're cooking for two, one guinea fowl is just right). I recently mashed butter with garlic, sage and rosemary, stuffed it under and rubbed it over the skin, and then roasted the guinea fowl on a bed of chunky carrots splashed with sherry, which was scrumptious. You wouldn't go wrong by draping prosciutto, pancetta or bacon over a guinea fowl before roasting it with some nice spuds either. Cabbagy things are a great accompaniment, too; try roasting some Brussels sprouts or sauteing Savoy cabbage with onions to go alongside your roast guinea hen.
Guinea fowl also takes very well to braising. In fact, because of the bird's lower fat content, braising is probably your best bet for really moist meat if you balk at all the butter and bacon mentioned in the paragraph above. I've used guinea fowl with great success in a Nigel Slater recipe for chicken braised with chicory and creme fraiche (which is an absolutely fabulous, restaurant-quality recipe that's dead easy to prepare). Guinea fowl would work equally well in a classic coq au vin—for which, incidentally, Nigel Slater also has a good recipe. And since poultry, pulses and cured meats are always a winning combination, the next guinea fowl dishes I intend to try are sherry-roasted guinea fowl with chickpeas and chorizo and guinea fowl with smoked sausage and butter beans, two dishes which sound ideal for a damp autumn day.
If you haven't ever tried guinea fowl before, I'd urge you to give it go. Don't be intimidated by the idea that it's a "game bird"—it's no more intimidating than chicken and not much gamier either. A lovely golden guinea hen will add a nice bit of flair to your Sunday supper table and remind you just how delectable the humble fowl can be.