Barcelona, Spain
By Jessica – January 8th, 2006
Jeremy and I visited Barcelona in December 2005, right in the middle of its Year of Gastronomy. Unfortunately, we didn't get to take part in any of the special events going on around the city (lots of cooking classes and the like), but we still ate very well in Barcelona - just as you would expect from a town filled with markets and Michelin-starred restaurants, where even the church spires are topped with fruit.
It was my first time in Spain, and we were only in Barcelona for a long weekend so I can't claim to have any great insight into the gastronomic culture of either Spain in general or Barcelona in particular. But we did have some very enjoyable culinary experiences in the Catalonian capital, so what follows are three tips for fun foodie things to do in Barcelona, along with brief reviews of some of the eating and drinking establishments we visited while we were there.
First of all, tapas: they're everywhere, they're tasty, and they're just a brilliant idea. This may be self-evident to the tapas experts among you, but for the uninitiated (as we were), here's a tip: at the bars with tapas along the counter, you just need to ask for un plato - then you get a plate on which to put the toothpicks from the tapas that you eat. They calculate your bill by the number of toothpicks on your plate at the end. It makes perfect sense to me now, but when we went into our first bar on our first night in Barcelona, we were absolutely confounded as to how the system worked - it seemed like everyone was just standing around eating for free.
There are food markets throughout the city. The Boqueria is the biggest, and it's packed with stalls selling Iberian ham, Spanish cheeses, fresh meat and seafood, very fresh game (furry rabbits and feathery fowl), and mountains of fruits and vegetables. There are also a few tapas places in the market itself and on its outskirts, but at lunchtime it's almost impossible to find space at any of them. In lieu of tapas, you could grab some fresh fruit: a lot of the stalls sell fruit salads and half melons or papayas, complete with a plastic spoon so you can eat them on the go.
After wandering around Barcelona's medieval quarter, sit on the square in front of the beautiful Santa Maria del Mar cathedral and take the time to enjoy a cafe con leche or a glass of the spicy regional Priorat wine as the sun goes down. Then explore the appealing bars and restaurants in the surrounding streets - it was our favorite part of town.
Where we ate and drank:
ÄŒaj Chai, Sant Doménec del Call 12
Spain is definitely not known for its tea, but if you're in Barcelona and you're craving a cuppa, head to this friendly, extremely laid-back, blissfully smoke-free tea room in the medieval Jewish quarter of the city. They have a long list of loose-leaf teas which are prepared with great care, as well as a selection of cakes and pastries (the honey cake was particularly nice). There are also some Spanish and English books to peruse while you sip your tea.
Bar Antiquari, Plaí§a del Rei
This bar is perfectly situated on the fantastic medieval Plaí§a del Rei. The bar is on the crowded ground floor, but you can take your drinks into the atmospheric, low-ceilinged room downstairs or the lovely, wooden-beamed upstairs room, which has a small balcony looking out over the plaza.
Kan Kan, Grunyi 4
A completely cozy little nook of a bar/café down a tiny little alleyway in the Barri Gí²tic (of course, in Barcelona's gothic quarter, everything is down a tiny little alleyway - but this alleyway was charmingly lit with candles right to the front door of the café). It's a friendly, comfortable and buzzing place serving teas, coffees and cocktails.
Sagardi, Argenteria 62
A Basque tapas bar near Santa Maria del Mar in the lovely Ribera district. As in some of the other tapas bars we frequented, half the tapas were draped with anchovies - delicious! Red pepper, white cheese and crispy fried parsley on bread was particularly tasty. There was an attached restaurant which looked very inviting, and there were several other tempting eating establishments in the immediate vicinity, including one restaurant dedicated entirely to cheese.
So-named because 99.9% of its tapas are Catalonian in origin. It's a sit-down tapas place (more like a café than a bar), and it's got a very clean and modern, yet cozy, feel to it inside. Though we had to wait a while for our order to be taken, the service was very nice when it did finally come. The tapas were yummy, too: gambas with botifarra, a traditional Catalan sausage; broad beans and peas; and a white bean salad with the ubiquitous salt cod, pimientos and olives. Good café con leche, and a detailed menu/magazine you can take away with you.
Petit, Mercat de la Boqueria, next to the bigger, more packed Kiosko Universal
A little tapas place on the Boqueria specializing in seafood (possibly Galician, judging by the menu). Seafood-wise, we had nice grilled gambas and fried calamari which was tasty, if a bit greasy. The big non-fishy surprise was the pa amb tomaquet, a traditional Catalan snack of bread rubbed with tomato and dressed with olive oil and salt. This looked rather lackluster, but it tasted absolutely divine (the olive oil was excellent). I can only imagine what it must be like in the summer, when tomatoes are at their peak. The pimientos de Padrón were another surprise favorite. These little green peppers from Galicia were fried in olive oil and then sprinkled with salt. The interesting thing about them is that most of them aren't spicy at all - but some of them are, and there's no telling which is which until you take a bite. Fun!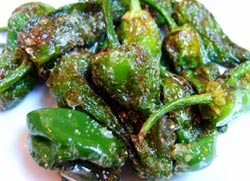 Sleek and modern Moovida is located inside the equally sleek and modern Hotel Omm. We had a tiny, tiny lunch here - the restaurant offers "half-portions" of food, the idea being that you put together your own tasting menu. We didn't have a lot of time to kill, so we stuck with one small dish each: steak tartare for Jeremy, which he enjoyed very much, and a veal filet sandwich with caramelized onions for me. The food was very good, the surroundings very stylish, the prices very high - but it was enjoyable, and it was enough to tide us over to tapas-time.
Taxidermista, Plaí§a Reial 8
This former taxidermy shop has a location to die for, right on the elegant, palm-lined Plaí§a Reial (which apparently used to be quite dodgy but has been somewhat reformed). Dalí­ frequented this spot in its pre-restaurant days for all his taxidermic needs. Now it's a half-touristy, half-local eating establishment serving up hearty Spanish treats.
Jeremy and I shared paella to start with. It was very good and totally different than the paella that I make. The rice was on the crunchy side of al dente, but it softened as it sat on the plate. The paella was studded with unusually tasty calamari and fresh, not-overcooked gambas. There was a rich, almost meaty taste to the whole dish which was wonderful, but which was also driving me crazy because I couldn't place it. It was Jeremy who finally hit upon the answer: sherry.
The taste was echoed in Jeremy's main meal of confit duck smothered in a sweet Catalan sauce of shallots and raisins - so rich, but so yummy. I would have ordered that dish myself (confit duck being one of my favorite things in the world), but I was seduced by the pork filet with a wholegrain mustard sauce, served with little brown Pardina lentils and leeks (mustard and lentils being two of my other favorite things). The pork was juicy and pink and just melted in my mouth. After all the paella and the super-rich meal, I was completely full, but I couldn't pass up my last chance to have the crema catalana, which was a creamy, fluffy concoction flavored with vanilla and sprinkled with cinnamon. It was the perfect ending to a lovely meal, and to a great weekend in Barcelona.