Tallula's Tea Rooms, Brighton, England
By Jessica – January 28th, 2006
Updated 2011: Tallula's Tea Rooms has since closed.
---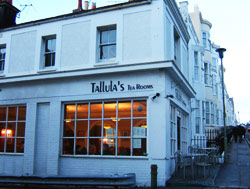 Tallula's Tea Rooms opened just over two years ago, and it's been a favorite haunt of mine ever since. If "tea rooms" conjures up the image of chintz drapes, musty carpets and voices not raised above the level of a clinking teaspoon, then think again: Tallula's is a lovely, bright cafe with big windows, tasteful decor and a relaxed atmosphere.
Tallula's has a large, varied menu, with everything from salads and sandwiches to big bowls of bangers and mash (and lots of vegetarian options to boot). They serve breakfast all day, and their American-style pancakes are by far the best I've had on this side of the Atlantic. Their pan-fried salmon salad is also excellent, as is their beautifully seasoned beef burger and their warm poached salmon sandwich with homemade mayonnaise. As the owner is Scottish, there's a nice Scottish slant to some of the dishes on the menu (haggis with neeps and tatties, for instance, or the Scottish breakfast with Lorne sausage, haggis and potato cake). They do Sunday roasts, too, though past experience has shown that you might want to call ahead to be sure of getting a seat on a Sunday.
This being a tea room, Tallula's naturally has a vast selection of teas, coffees, cakes and sweets. Most (if not all) of the tea and coffee is organic and fairtrade. All the coffees are served in individual cafetiéres, while the teas are exclusively loose-leaf. And the scones - the scones are simply heavenly. Visit in the afternoon for a cream tea: you'll get your choice of tea served up in spotless white china, along with two gigantic scones - one with currants, one without, both warm of course - and little pots of butter, strawberry jam and clotted cream. Whether you subscribe to the "clotted cream first, then jam" school of thought (as I do) or the other way around, you will love these scones.
Tallula's is just quintessentially nice. The clientele is completely eclectic (your hipster friends and your grandparents should feel equally at home here); the music is generally soft, swingy jazz; the service is very friendly; the air is smoke-free; and the food and drink are always great. In short, there's nothing not to like about Tallula's.
Tallula's Tea Rooms, 9 Hampton Place, Brighton, England, +44 (0) 1273 710 529