Fish and fennel
By Jessica – May 24th, 2006
If asked to rate my favorite flavors in order of preference, licorice and anise would be at the very bottom of the list (where they would be vying with tarragon for last place). And yet, here I find myself endorsing a dish which revolves around that most licorice-y of vegetables: fennel.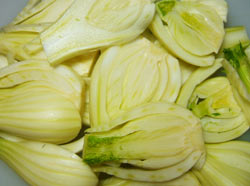 I credit my good friend and former upstairs neighbor with convincing me that cooking fennel in tomatoes really tames its licorice bite and leaves it mellow and fresh-tasting. And I have to credit Anthony Worral Thompson with the backbone of this particular recipe, which involves sautéing fennel in olive oil and then finishing it in a rich Mediterranean-inspired sauce which pairs beautifully with a tender white fish.
I've made this recipe twice. The first time, I used fennel, eggplant (aubergine) and a red pepper simply because that's what I had in the fridge. The second time around, I used a green pepper in place of the eggplant. I liked it better with the eggplant, though Jeremy thought it was equally good without. To be honest, it would be fine with the fennel alone; I just like having a jumble of different vegetables to make things more interesting.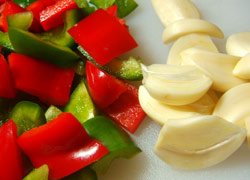 You can use any sort of firm white fish you like. I've made this with halibut and sea bass*, and both were lovely. Since the fish essentially steams on the bed of vegetables, it stays incredibly moist. Fish cooked this way is delicious, but it's not really an essential part of the recipe—so if you're vegetarian, just skip the fish, simmer the vegetables on the stovetop until they're as soft as you like them, and toss them with some pasta. It will make an equally yummy dinner.
This recipe makes more than enough for two people:
extra-virgin olive oil
3 small fennel bulbs, sliced about 1/2 cm thick (remove the outer leaves)
1 small red pepper, chopped
1 small eggplant, chopped
6 cloves garlic, peeled and left whole (more if you like!)
1/3 cup white wine
1 can chopped tomatoes in juice (410g/14.5oz)
handful or two of black olives, left whole
1-2 teaspoons dried or 1-2 tablespoons fresh chopped oregano
salt and pepper
1-2 tablespoons balsamic vinegar
2 filets of white fish (halibut, sea bass, cod)
fennel fronds (if you have them from the fennel bulbs) and fresh basil
Heat several tablespoons of olive oil in a casserole/Dutch oven over medium heat. Add the sliced fennel and sauté until it starts to brown and soften, about 10 minutes. Remove the fennel, then sauté the pepper until it starts to soften (again, about 10 minutes). Remove the pepper and sauté the eggplant until it starts to soften (yes, about 10 minutes), then remove the eggplant as well. Add more olive oil to the pot in between each batch of vegetables if you need to. And don't be put off by cooking the vegetables separately like this—it's not really much hassle, and everything will cook better if it has room in the pot (if you just dump all the veggies in at once, they'll stew in their own juices rather than be nicely sautéed).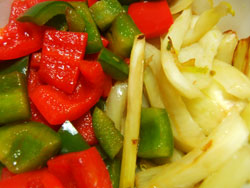 Add another tablespoon of olive oil to the pan, then add the garlic and sauté 2-3 minutes, until fragrant. Pour in the wine and simmer until it's slightly reduced, about 2 minutes. Add the tomatoes, olives, oregano and salt and pepper to taste and simmer, covered, about 15-20 minutes, in order to soften the garlic and let the flavors meld. Then add all the vegetables and balsamic vinegar and heat through.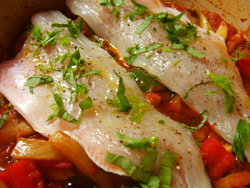 While the sauce is cooking on the stove, preheat the oven to 200C (390F). When the oven's ready, season the fish filets with salt and pepper and lay them on top of the vegetables. Drizzle them with some olive oil and sprinkle over some fennel fronds and fresh basil, then cover the casserole and cook in the oven for about 20 minutes, until fish is cooked through.
I reckon you could skip the oven bit and just cook the whole dish over low heat on the stovetop, covered, after putting in the fish. But I like using the oven because 1) the ambient heat of the oven prevents things from burning to the bottom of the casserole, and 2) it gets the pot out of the way so you can do whatever else you might need to do—like cook some pasta to soak up all that delicious, rich tomato sauce.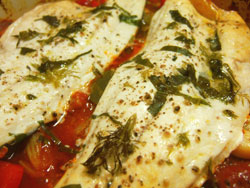 *For good, fresh, local fish in Brighton, it's worth heading down to the seafront and visiting either Nigel Sayers (198 King's Road Arches) or the Sea Haze shop (207 King's Road Arches).